Set Up SMS Automation with GatewayAPI + Zapier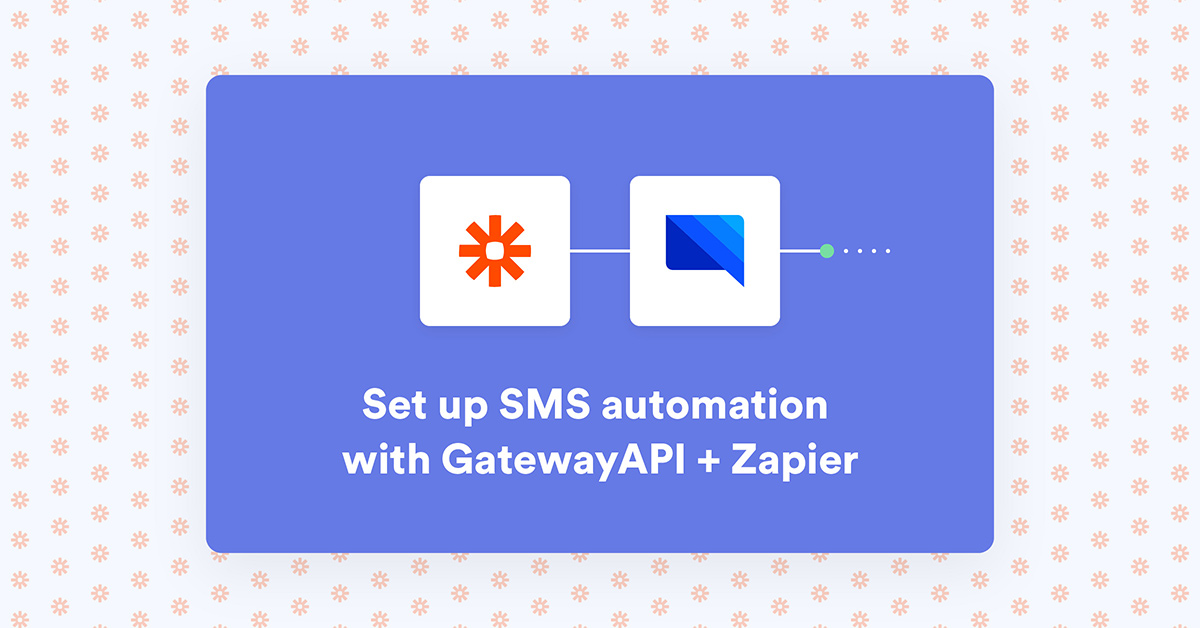 Working smarter by automating a series of tasks is becoming increasingly popular. Luckily, there are several platforms out there that can help you get started even if you haven't got any coding experience.
In the same way as Integromat, which we integrated with last year, Zapier can be used to connect a wide range of apps in order to automate workflows. At the time of writing, Zapier offers over 3,000 apps to pick from, in other words more or less every app you can think of.
Perhaps you want to enable easy-purchasing via SMS at your Shopify setup? Or wish to send out a confirmation SMS when an appointment is booked? Or you have a small target group and wish to manage SMS broadcasts yourself via Excel? Or you wish to receive new SMS messages in your email inbox? Or you wish to automatically forward SMS messages to Slack?  Zapier can make it all possible.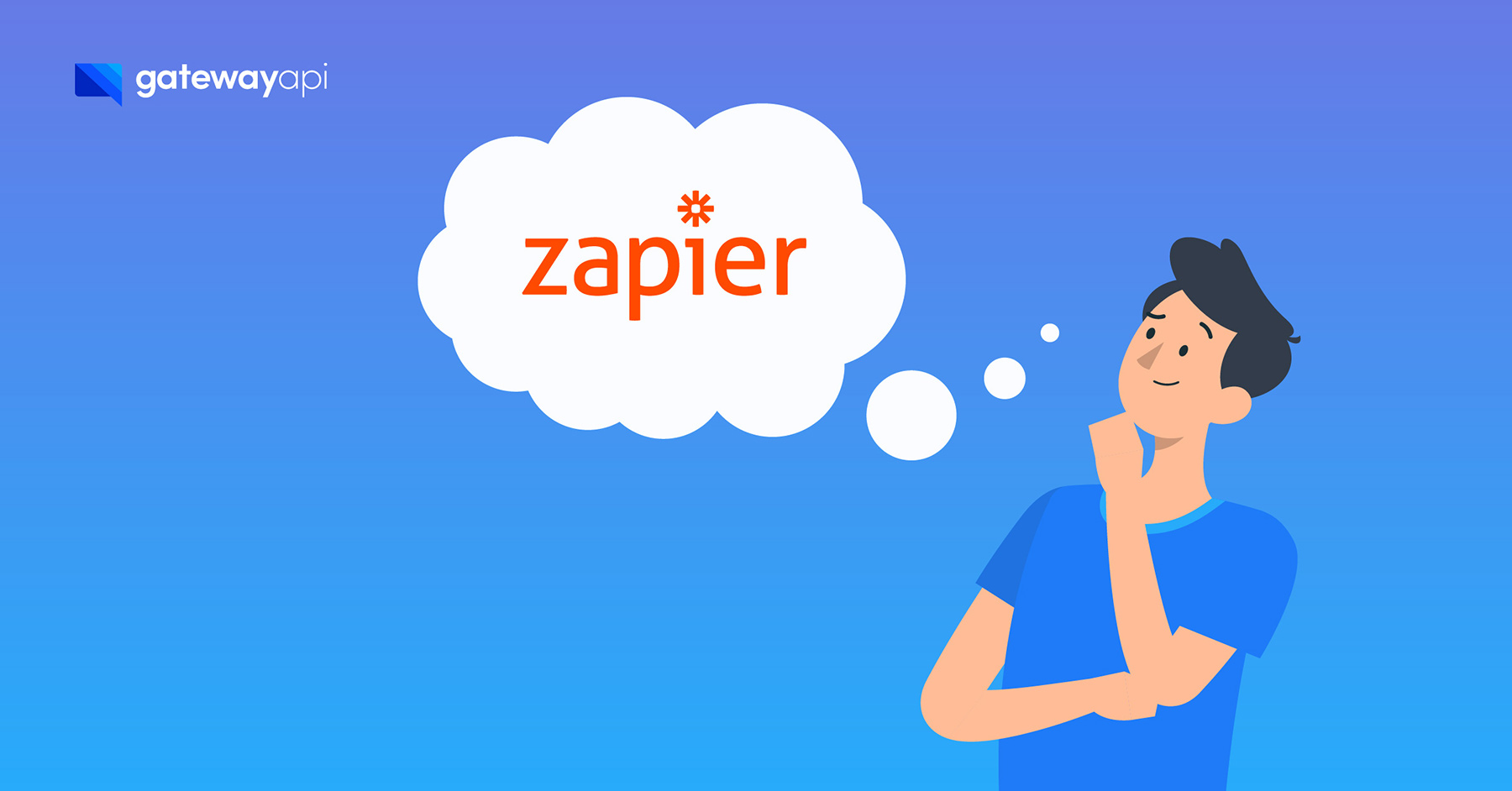 What is Zapier?
The California-based company Zapier describes itself as a no-code platform and is today used by individuals and organisations globally to set up automation workflows – or as they call it: "Zaps". Like Integromat the goal is to make it as simple as possible to connect your favourite apps. If any obstacles should occur, their support offers to assist customers. Zapier is also free to use, if you have set up less than five apps and run less than 100 tasks/month.
On the technical side, Zapier boasts an uptime of 99.9 % and a high-level of data security so you can rest assured that your data are safe as it transfers between the apps you have selected.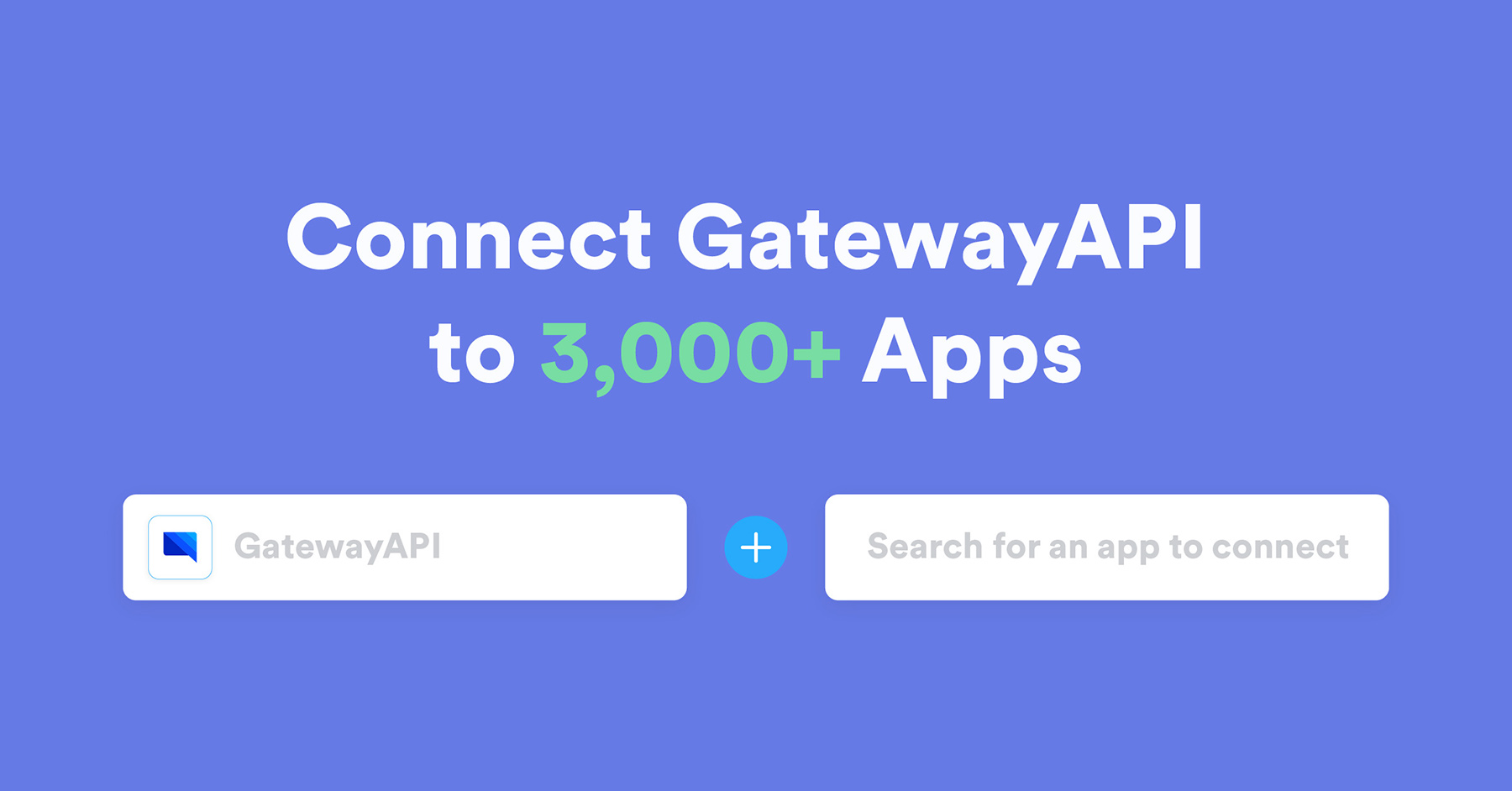 Automate away with GatewayAPI + Zapier
Set up any kind of SMS automation you need with the Zapier GatewayAPI app.
If you haven't done so yet, create a GatewayAPI account. Afterwards you can create a Zapier account. Both can be created easily via your Gmail account.
When you have both of these, you can set up your first "Zaps" by following these steps:
Go to your Zapier account
Go to "My Apps" at the left side menu
Search for "GatewayAP"
Click "Connect"
Insert your API token to begin using our app in Zapier.
You can find your unique GatewayAPI API token in your GatewayAPI dashboard under "API" → "API Keys" → "Get key/token".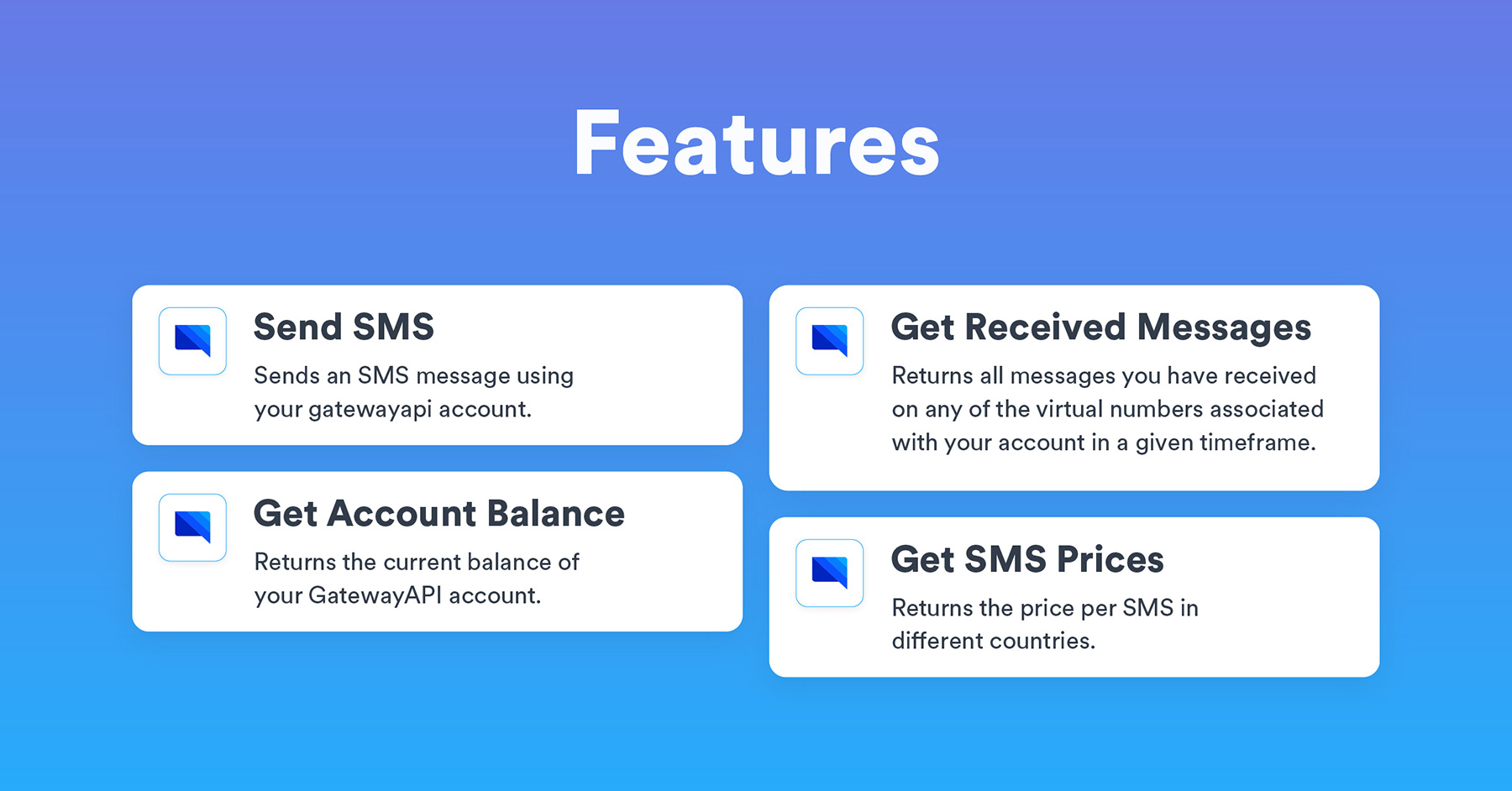 Available features in the GatewayAPI app
The following templates are available at the time of writing in our Zapier app. The templates will allow you to quickly set up "Zaps". In addition, you can see them as inspiration on how SMS automation can be easily integrated into your business in the systems and services you use.
General integrations
Integration with Shopify: If a customer leaves an order, an SMS is sent informing them that they left the purchase without completing it.
Integration with Pipedrive: When a new lead arrives, an SMS is received, enabling you to contact the potential customer immediately.
Integration with Slack: Receive an SMS when a new message is posted to a specific Slack channel.
Integration with Trello: When a new card is added, an SMS is received.
Integration with Twitter: When a specific user tweets, an SMS with Twitter name and content in the tweet is received.
Google-specific integrations
Integration with Google Sheets: Manage audiences and send SMS messages easily via Google Sheets.
Integration with Google Drive: When a new file is uploaded to your Google Drive (or a specific folder), an SMS is sent.
Integration with Google Calendar: Receive an SMS once a new event has been added to your Google Calendar.
Integration with Google Contacts: Receive an SMS when a person has been added or updated in Google Contacts.
Integration with Gmail: Receive an SMS copy of incoming emails (only Gmail Business Accounts)
Actions
It is also possible to perform the following actions in our app, which you can use to set up SMS automation with exactly the apps you want. In particular, the "Send SMS" action has many applications, and can be implemented in a large number of apps in different scenarios.
Send SMS: Sends an SMS message using your GatewayAPI account.
Get Account Balance: Returns the current balance of your GatewayAPI account.
Get Received Messages: Returns all messages you have received on any of the virtual numbers associated with your account in a given timeframe.
Get SMS Prices: Returns the price per SMS in different countries.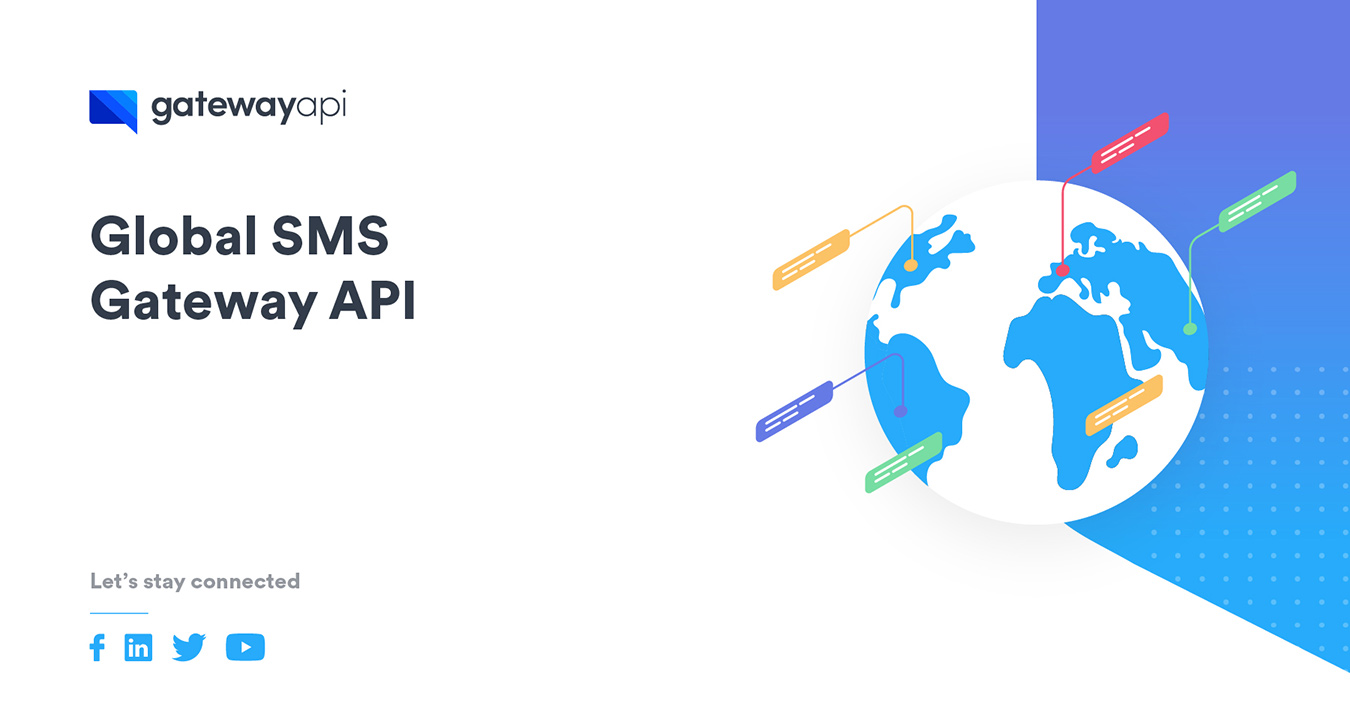 Global SMS Gateway
We have made it simple to implement SMS services into your business by offering some of the best prices worldwide as well as easy integration, world-class customer support, an intuitive interface and a rock-solid uptime of 99.99 %. If you don't have an account yet, you can create a FREE account in less than two minutes here: Go to GatewayAPI or contact sales@gatewayapi.com.